Dressing Your Bay or Bow Window: Blinds and Shutters Considerations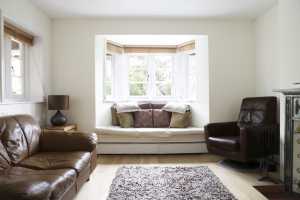 Many of us live in homes with impressive large bay or bow windows but there's one well known problem homeowners tend to face when decorating a home with these characteristics; how to dress them effectively. This month Allegro Blinds are here to provide you with some tips on which types of blinds and shutters to install, when you have beautiful feature windows such as, bay or bow.
What's the difference between bay and bow windows?
A bay window has three angles or three panes of glass if you will, whereas a bow window can have four or five. A bay window generally looks like a dressing room mirror, with one large front facing mirror and two smaller ones either side and a bow window has more, smaller sized sized panels of equal size.
As you can imagine, it can be hard to find the appropriate window solutions for such a tricky window and this need not be an issue. Instead of hanging curtains that'll cut off important floor space and cover the interesting feature of a bay window or a bow window, blinds are the perfect solution to enhance it, instead.
Bow window recommendations
There is a variety of window solutions for a bow window and these include both blinds and shutters. Depending on the style you're going for, you might be more inclined to try something new to maximise the light coming through and draw the attention to your impressive bow window.
Blinds

Roman blinds – highlight areas of interest and finish with neat folds. They can be lifted to a variety of levels to enhance light exposure and bring style to a room.
Vertical blinds – give the illusion that the windows are taller than they are. A bow window may require a curved head rail so that the blinds can be fitted properly but they can also be installed individually too.
Shutters

Tier-on-Tier – these shutters are positioned one above the other and allow for individual alteration. They're ideal for sectional light filtration and offer an elegant finish to a bow window.

Cafe shutters – ideal for bow windows because they cover the bottom of the window that requires privacy but allows light in from the top, as they cover only half or three quarters of the window.
Bay window recommendations
Although you may be finding it difficult to find the right coverings for your bay windows, there are a number of breath taking solutions to choose from, to ensure that your rooms stay looking impressive, around the clock. Whether you decide on investing in blinds or shutters you can rest assured that either of them will provide you with flawless and practical results.
Blinds
Shutters
Full height shutters – bay windows are perfect for these shutters, especially if they're installed on ground floor windows. They have slats that can be tilted to allow in the optimal amount of light to suit your needs and they also offer great insulation and noise reduction to a room, which can be a flaw with a typical bay window.

Cafe shutters – again, like bow windows, bay windows will also benefit from these. Even when they're completely shut, the light flooding in from the top will keep the room lit at all times.
If you're looking for professional, friendly advice you can trust in our dedicated team here at Allegro Blinds. With a wealth of experience and our made-to-measure services you can rest assured that you will receive nothing but the best. If you're located within: Harrow, Watford, St Albans, Welwyn and Dunstable/Luton, get in touch today and let's add the finishing touches to your home.