Top Home Office Design Tips for Remote Workers
Over the past year, many of us have transitioned from commuting to the office each day to creating a virtual workplace in the comfort of our own homes. Remote working has become the new norm, but it does come with its fair share of challenges.
Your working environment can have a huge impact on your productivity levels and your mood. With this in mind, it's important to create a dedicated workspace which will enhance productivity and concentration, whilst supporting that all important work-life balance. Take a look at our top home office design tips for the remote workforce.
Create a dedicated workspace
In an ideal world, your home office would be a separate room within your home dedicated to just working. However, it can be difficult to set aside an entire room for just working and for many people, creating a multipurpose space works just as well.
When deciding on your office space, you may decide to:
Set up an office in your spare bedroom
Set up an office in your living room, using a shelving unit to divide the room
Convert your loft or garage into an office
Utilise the dead space under your stairs
Whatever works best for you, it's important to establish a dedicated workspace so you can maintain work-life balance.
Prioritise good lighting
Good lighting is another important factor when choosing where to set up your home office. Setting up your desk near windows is preferable so you can get as much natural light as possible throughout the day.
According to a study, natural light in a home office has a number of benefits, including:
Reduces eye strain
Minimises headaches
Improves productivity
Reduces the chance of mistakes
If your office space has minimal natural light, check out our tips for getting natural light into a dark room. Make sure the space is well-lit with warm overhead lighting, desk lamps or mirrors.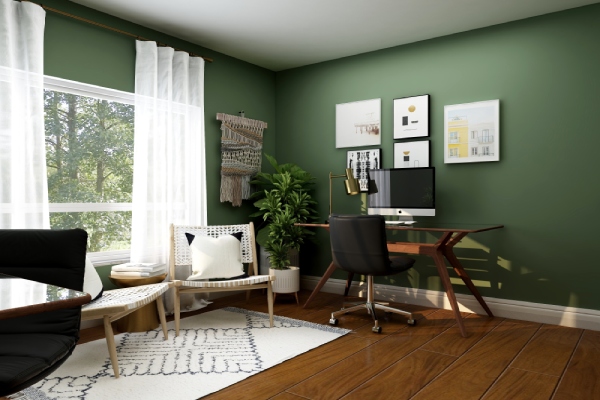 Home office blinds
Choosing the right blinds for your home office is key to control the light coming into your workspace, to prevent glare and to offer privacy.
Fitted venetian blinds are easy to adjust giving you great control of the light coming into the room. Their modern design will also give your office space a more business-like feel.
Vision day and night blinds are a versatile option featuring alternating horizontal panels of translucent and opaque materials. This allows you to welcome in the natural light, create a filter of light or create a completely private space depending on your preferences.
Fitted roller blinds are another practical option for your home office windows.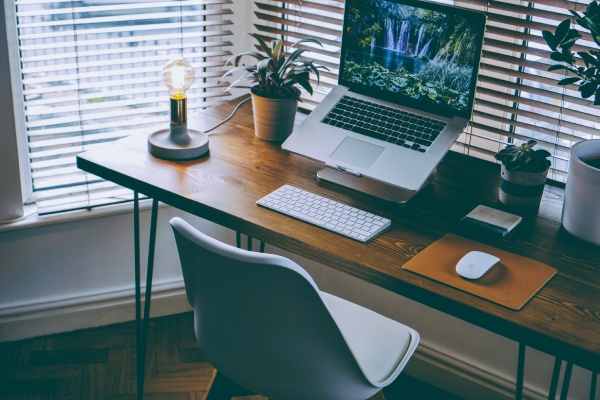 Organise a clutter-free space
Working from home comes with many distractions, making it difficult to stay focused on work. Alongside this, it's also easy to let the coffee cups pile up and your documents to become messy.
Organising your work environment and having sufficient storage to ensure your space remains clutter-free is a great way to minimise distractions and help you concentrate on the task at hand.
Perfect your Zoom background
Put some thought into how the room looks behind you; this forms an integral part of your virtual office space and will be one of the first things your colleagues, clients and customers notice on video calls.
Whilst you may wish to play it safe and opt for a neutral background, don't be afraid to inject a little personality!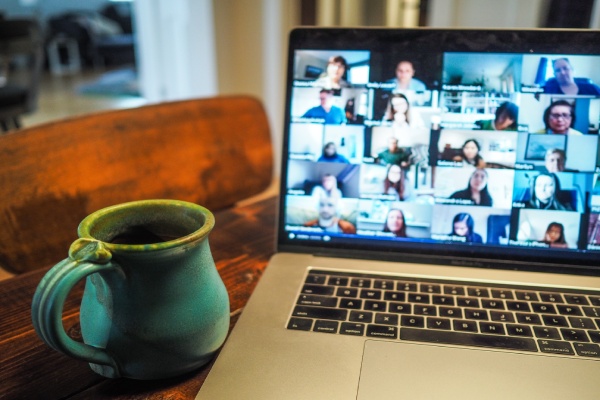 House plants
House plants are a great addition to your home office space. Not only do they brighten up your home office décor aesthetics, research shows having plants in your home office can enhance your mood and increase productivity.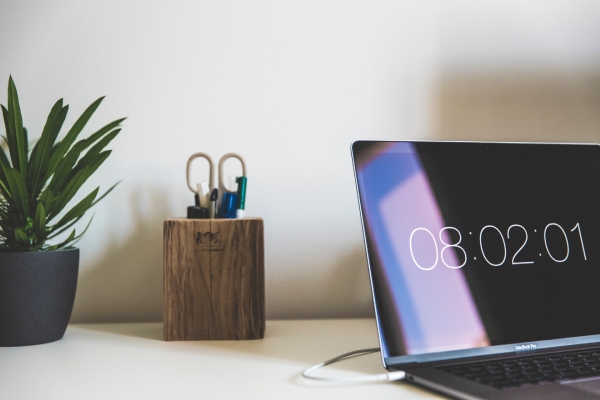 Ready to embrace your remote working environment? Create a practical office space with quality made-to-measure blinds. Contact Allegro Blinds today to discuss your requirements and find out how we can help you create a functional workspace at home.