How to Clean Pleated, Duette and Plisse Blinds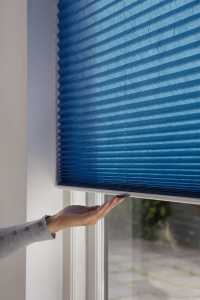 Stylish, elegant and practical, pleated blinds make for a great choice for many interiors. Cleaning pleated blinds, including those of the Duette and Plisse variety, is more straightforward than you might think. Simply read on for Allegro Blinds' best tips on keeping your blinds looking their best.
How to clean all pleated blinds: a general guide
All blinds will need a good clean every now and then to keep them looking their best, as well as to prevent any dust or harmful bacteria building up. Follow the tips below to ensure you get the best out of your window coverings.
An excellent use for the brush attachment on your vacuum cleaner, simply run the attachment over the blinds. Make sure to do this slowly and gently, taking care not to push against the material too hard, otherwise you risk damaging the pleats.
Use a cloth to wipe any excess dirt
Using a damp, non-abrasive cloth dipped in lukewarm water, start from the top and work down the blind. Again, take care to do this gently as some pleated blinds can be more fragile than others. Make sure not to use any fabric conditioner or harsh chemicals that might stain the fabric.
Remove stubborn marks or stains
With marks and stains that are proving hard to shift using the methods above, find a spray foam that is specifically designed for upholstery. Then, removing the blind from its frame if necessary, generously spray and carefully scrub the material with a non-abrasive cloth. You could unfold the pleats to make this easier, just make sure that your blind is perfectly dry before folding and placing back to its usual position.
Key differences for cleaning Duette and Plisse blinds
Although they are types of pleated blind and the cleaning process doesn't differ too much from our tips above, there are some additional points to be aware of when cleaning Duette and Plisse blinds.
Cleaning Duette and Plisse blinds regularly is particularly effective, as this prevents excessive dirt from building up on your blinds which may require a deeper clean. Simply use a feather duster or the brush attachment on your vacuum cleaner as part of your usual cleaning routine.
Duette and Plisse fabrics with a metal frame
The metal frames on certain blinds cannot be submerged into water, since this could damage the metal coating. Follow the above steps for pleated blinds if your Duette or Plisse blind is made of metal.
Duette and Plisse fabrics with a plastic frame
Fill a bath or basin with lukewarm water – about 30°C. Then remove the blind from the window and place the blind into the water, using a non-abrasive cloth to remove any marks or stains. Take care not to submerge the motor if your blind is automated. You could also add some non-synthetic detergent to the water, but avoid using harsh chemicals that might damage or otherwise mark the fabric.
Watch this video on Youtube for more details on the process.
As a local family business with over 70 years of experience, you can rest assured your new blind solution is in the best possible hands. With a friendly and approachable team located in St Albans, Dunstable, Watford and Harrow, simply get in touch today to begin designing your perfect blinds.