How to Decorate Windows for Christmas
The festive season is almost here and it's time to give your home the Christmas look. You've probably already thought about other Christmas decorations such as your tree and lights, but what about your blinds and windows? Here are some Christmas decor ideas to give you some inspiration on how to decorate your windows for Christmas.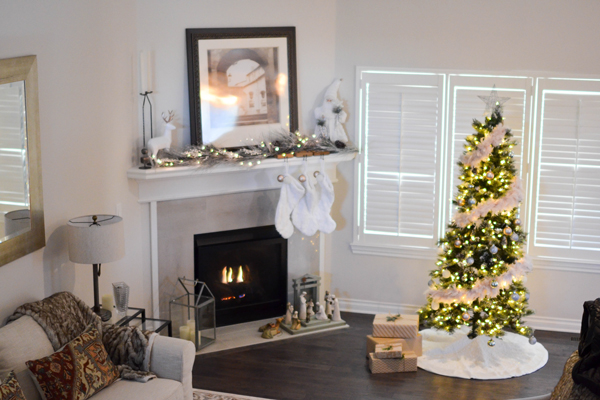 How to decorate vertical blinds
Thanks to the material of vertical blinds, solid colors or patterns can be painted right on to them allowing you to get really creative. You can even use stencils and acrylic paints to create some nice festive patterns such as snowflakes or snowy scenes.
What's more, you can also decorate around the blinds using assortments of drapes and curtains. Whatever method you choose, your blind decorations are sure to dress up your home to get you into the Christmas spirit.
How to decorate roller blinds
Just as you can with vertical blinds, roller blinds can also be painted on with stencils and acrylic paints to create your own Christmas designs. However, it can be hard to find the time to do this.
Instead, why not add a blind pull? Even if your roller blind is operated by a side chain, a blind pull can even be a decoration that isn't used. You could get really festive by adding something like a pine cone, a candy cane or a glass snowflake to give your home that extra Christmas touch.
Christmas decoration ideas for your windows
Candles
Lighting a few candles by your windows can really give your home a cozy feel to it. Why not consider some scented candles to fill your home with your favourite Christmas scents. Toasty cinnamon, fresh pine, or even a warm ginger scent will help you get into the festive spirit.
Alternatively, you don't have to go for traditional wax candles; electric or battery candles are also a great addition. You can easily place these alongside the blinds in your window where you (and your neighbours!) can enjoy the views of flickering candlelight.
Wreaths
If you want to go for a classic Christmas look, adding greenery such as traditional wreaths to your windows will give them a true festive feel. Feel free to decorate your wreath to add your own personal touch.
Lights
Christmas lights don't have to be hung outside; they can be a great way to dress up your window sills and blinds. Battery operated lights are easy to hang and wrap around your blinds without having to think about plugging them in. Alternatively, you can also fit special window lights shaped as a Father Christmas, a snowman or other festive shapes that can slot nicely into your window pane.
Fake snow
Although it never usually happens, we all associate snow with the festive period. You can get creative and frost up your windows and blinds with cotton wool to create your very own white Christmas from home.
Create a Christmas card display
A great way to show off your close friends and family, you can create your own garland out of some string or ribbon to lay out all of the Christmas cards you receive this year. You can then hang this up horizontally or vertically across your window blinds to give a Christmas feel to them.
Position your Christmas tree near the window
Feeling a bit lazy and are looking for an easy way to decorate your window for Christmas? Placing your well-decorated and well-lit tree right in front of the window will save you from having to worry about decorating your windows directly.
Get in touch
Add a personal touch to your home when you choose to come to Allegro Blinds. We supply and install the best window solutions suited to your all-important styles, tastes and budgets.
To find out more about roller blinds, vertical blinds, or to arrange a free home visit and quotation across St Albans, Watford, Harrow, Welwyn and Dunstable/Luton, please contact your local branch or send us an enquiry.