How to Keep Your Conservatory Cool this Summer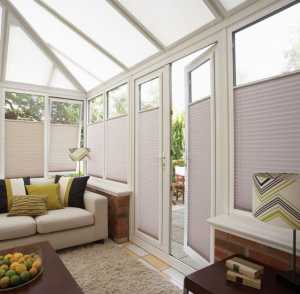 Stifling heat and muggy air can be unbearable at the best of times when we hit the peaks of summer in the UK. While you want to enjoy and make the most of this great weather, the last thing you want is to feel like you're being cooked alive when you try to unwind, work or entertain in your conservatory.
For this reason, we've got a whole host of top tips on how to keep your conservatory cool this summer. Some are simple changes, while some require more planning and investment, but hopefully there is something to help you enjoy your conservatory space.
Conservatory Blinds
One of the best ways to keep the beating sun from cooking you as you enjoy your conservatory in summer is to install blinds. These are a fantastic, flexible option as you can adjust how much light and warmth you want to let in no matter what time of the year it is.
By shading out your conservatory with roller blinds, vertical blinds, venetian blinds or even blackout blinds, you stop the greenhouse effect. At Allegro Blinds we can tailor blinds to suit any conservatory – we can even provide blinds for the ceiling panels of your conservatory or orangery which have insulating properties to help with the heat and glare in the summer, as well as the heat loss in the winter.
Ventilation
A simple solution to this problem is ventilation, allowing fresher air to circulate into the room and give a release to the greenhouse effect. Whether that translates into opening windows or simply opening vents in the casing of your window, a little air can go a long way.
While you may rid yourself of the warm air inside, be mindful that the air outside may not be much cooler if there is a distinct lack of wind on a sunny day. Also, ensure that you do not leave windows open while you are out of the house, as this presents an opportunity for criminals.
Ceiling Fan
Perhaps a little outdated to have as a permanent fixture in your home, ceiling fans offer a great chance to circulate the air in your conservatory. It may not stop the heat getting in, but if you can crack a window or a door, these devices will certainly help to refresh anyone wanting to enjoy the space and the sunshine.
Air Conditioning
An even better way to circulate fresh, cool air into the room, all without having to leave windows open, is to install air conditioning. This might seem like something you see more often on your holidays, but it creates the ideal space to spend the summer days. You can soak up all the rays and still remain fresh. This is especially important if you want to use the room for a practical purpose, such as an entertainment room or as an office space.
It's important to analyse how much space requires cooling however, ensuring you get the right size unit for the right purpose. If you're not planning on staying in the property for years to come, this might be a little too pricey for some.
At Allegro Blinds, we supply conservatory blinds for your home in a number of styles. We can tailor blinds to any size so that you can enjoy a sunny yet cool summer this year. Get in touch today for more details or to arrange a free home survey and quotation – our professional team are on hand to help.
Save