Top Tips for Choosing Bathroom Blinds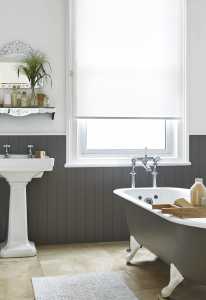 With so much choice out there in the market for blinds in your home, it can be difficult to get your head around the benefits of each style in relation to your rooms. Blinds for bathrooms are a great choice, but the style you choose depends completely on your individual requirements.
There are a number of factors involved with choosing blinds for your bathroom, so we've collated some of the key things to consider. Take a look below to find out which things should impact your decision making process.
Materials & Colour
Everyone wants their bathroom to be the pinnacle of style, so when it comes to selecting the material and colour of your blind this will obviously play a big part in the decision making process.
Some key colours for bathrooms which have been popular down the ages include whites and blues – this is because they have the effect of lightening your bathroom. They also invoke the sense of cleaning and the properties of water, which we all want to associate with this room.
Aside from the decor, however, choosing the material of your blinds is something you can put down to common sense. Real wooden blinds are not well suited for such humid conditions and could warp. Likewise, a fabric blind could develop a mould problem depending on the location of the window in the room.
As alternatives to this, aluminium or faux-wood venetians or PVC Aquasafe blinds are water resistant and can be cleaned with a simple wipe down every so often.
Privacy
Whether you're taking a relaxing bath, soaking in the shower or simply brushing your teeth at night, the last thing you want is your neighbours peering in at you. The bathroom is a private place and this must be considered when choosing blinds.
Some bathrooms will have distorted glass for their windows, which means that it makes little difference as to whether people are trying to see into your bathroom. However, if you have standard glass windows, or like to have them open in the summer for the fresh air, you probably want to consider something to tackle this problem.
A simple roller blind is great for blocking the view into your bathroom, but is easy enough to roll up. Similarly, Venetian blinds can offer a great way to block the view while offering the choice to have them open.
Light
Following on from that last point, getting enough light into your bathroom can be crucial to making it a room you can enjoy. Many bathrooms are designed with smaller windows, letting in less light overall, so you don't want a heavy blind blocking the only natural light source.
If you don't like the idea of having to have your blinds open or tilted, you could always opt for a less dense material for a roller blind which allows it to diffuse the light. This helps to keep the room well lit, but protects privacy.
On the other hand, if you like your bathroom dark and quiet, you can always opt for a blackout blind. This can create the perfect relaxing atmosphere to bathe in by candlelight.
Practicality
Understandably, we frequent the bathroom a lot throughout the day, so the final thing to consider is the practicality of a blind. Thankfully, most blind styles are easy to operate, but the roller blind has to be the easiest. With a soft-raise spring mechanism or chain to pull, it couldn't be simpler. Similarly, a Venetian blind can be opened with a simple twist, making either of these ideal to open and close if you're in a hurry.
Now that you've got some pointers to work with, we're sure you'll be able to find the right bathroom blinds for your home.
If you're still in need of assistance, or would like to discuss your requirements with a member of our team, simply call your local Allegro Blinds branch or get in touch online and we'll be happy to help.