Awnings
If you need a shady space to relax, read or eat in your garden, then an awning could be the ideal solution. Allegro Blinds are suppliers of garden awnings, a material overhang from your home, which will give you a small oasis right outside your patio doors. Whether you want to barbecue outdoors on a rainy day or admire your garden from the shade, we have a bespoke solution for you.
The Benefits of Awnings
Extends outdoor living space
Protection from sunlight, rain or wind
Can be retractable
Many styles, patterns and colours available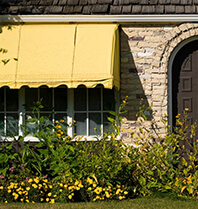 Patio Awnings
A patio awning can be the ideal solution to revitalising your home by extending your garden's usable space and allowing you to make the most of your patio area whatever the weather.
Our range of awnings includes a selection of colours, styles and materials, and can be easily used with retractable or mechanised options available.
You can see our selection of retractable awnings at one of our showrooms, covering St Albans, Dunstable, Watford and Harrow. Alternatively, get in touch today and we will arrange for one of our professional team members to visit your home and give you a free home survey to assess your needs and give you a quote.
Need some friendly advice? Then give us a call...