Pleated Blinds
If you have a room that gets a heavy dose of sunlight, pleated blinds could be the perfect solution, giving you protection from direct sunlight while still allowing your rooms to remain light and airy. 
With an extensive range of energy-saving coated and cellular fabrics in different colours and patterns, there is a chic and stylish option for every room, no matter what the existing décor is. Our range of pleated blinds also includes the duette and plissé styles and the popular Luxaflex brand.
The Benefits of Pleated Blinds
Stylish, elegant and practical
Protect from draughts, cold weather or heat
Affordable prices
Energy saving coating and cellular fabrics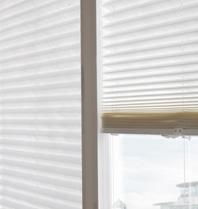 What Are Pleated Blinds?
Pleated blinds are made of lightweight fabric and stiffened with glue to create an accordion effect, consisting of a sequence of pleated, folded fabric panels which offer the flexibility to be raised or lowered. They embody versatility and elegance as a window covering solution. 
Ideal for an array of spaces such as garden rooms, conservatories, and areas with bi-fold doors, they bring with them blackout and thermal features that effectively manage light and temperature. Their distinctive construction enables seamless adaptation to windows of varying dimensions and orientations, blending utility with visual charm. 
The "
Perfect Fit" Pleated Blinds
Designed with precision to effortlessly integrate into your windows, perfect fit pleated blinds offer a seamless fit that enhances your décor while providing optimal light control and privacy. Our perfect fit blinds require no drilling or screws, and clip to glazing beads instead.
Crafted to perfection, perfect fit pleated blinds are an impeccable solution for various room styles, from modern to traditional. The unique design eliminates gaps and ensures a sleek, unobtrusive look that complements your windows. With a wide range of colours and fabrics available at Allegro Blinds, you can effortlessly match the blinds to your interior aesthetic.

Contact Us
To find out more about our range of pleated blinds or to arrange a free home visit and quotation across St Albans, Watford and Harrow, please contact your local branch or send us an enquiry.
Need some friendly advice? Then give us a call...