Made to Measure Vertical Blinds
When you require complete control over light filtration but still want an easy to clean blind, then made to measure vertical blinds could be the ideal installation. Here at Allegro Blinds, we supply and install quality vertical blinds that not only give you control over your light and privacy, but also enhance the interior design of your home.
Our made to measure vertical blinds in St Albans, Harrow and Watford are crafted with precision and attention to detail. They come in a wide range of colours, textures, and materials, ensuring that you can find the perfect match for your home's decor. Whether you prefer a sleek, modern look or a more traditional aesthetic, our vertical blinds can be customised to meet your specific requirements.
Moreover, made to measure vertical blinds are designed with ease of maintenance in mind. Their vertical orientation minimises dust accumulation, making them a practical choice for those seeking a low-maintenance window covering solution. Cleaning them is a breeze, allowing you to maintain a fresh and inviting atmosphere in your living spaces effortlessly.
The Benefits of Made to Measure Vertical Blinds
Made to measure blind for the best fit
Stylish addition to any home or business
Practical functions make it easy to use
Precision control over light and privacy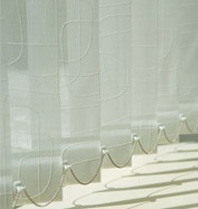 To find out more about our range of vertical blinds or to arrange a free home visit and quotation across St Albans, Watford and Harrow, please contact your local branch or send us an enquiry.
Need some friendly advice? Then give us a call...