Velux Roof Window Blinds
Skylights have fast become popular additions to homes and, as such, we offer a wide range of Velux roof window blinds that are perfect for skylights, including roller blinds, venetian blinds or pleated designs. There is a wide range of fabrics to choose from, depending on whether you need light filtration or heat reflection, so whether you have a window, or any other make of fitted window, we can help you to choose a style that is right for your home.
The Benefits of Velux Roof Window Blinds
Made to measure to suit your needs
Protect from draughts, cold weather or heat
Regulation of light levels including blackout
Many styles, patterns and colours available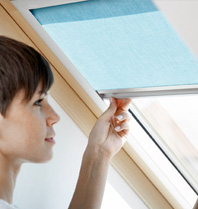 Made to Measure Velux Roof Window Blinds
Each of our Velux made to measure roof window blinds are tailored to the precise dimensions of your skylight roof window, ensuring a snug, custom fit. This made to measure approach with Velux skylight roof window blinds guarantees optimal light control, energy efficiency, and a seamless aesthetic that complements your unique space. Say goodbye to ill-fitting, generic blinds and embrace the elegance and functionality of Velux skylight window blinds. Enjoy a home filled with natural light, privacy, and style. Also see our range of remote control window blinds.
How to Order Your Velux Skylight Window Blinds
To find out more about our range of Velux skylight window blinds or to arrange a free home visit and quotation across St Albans, Watford and Harrow, please contact your local branch or send us an enquiry. Our friendly team are happy to help with any enquiries you may have about skylight roof window blinds and advise you on the blinds best suited to you and your home.
Need some friendly advice? Then give us a call...