Fitted Conservatory Blinds
Your conservatory is like no other room in your home, with larger windows and potentially awkward glazing roof panels. At Allegro Blinds, we can help you select from our range of fitted conservatory blinds with our variety of energy-saving pleated fabrics for roofs or windows. Transform your conservatory into an all-season retreat by incorporating fitted conservatory blinds in your next interior design makeover. Experience year-round enjoyment in this versatile space.
The Benefits of Fitted Conservatory Blinds
Custom made to fit your conservatory
Regulation of temperature and light levels
Added privacy when desired
Many styles, patterns and colours available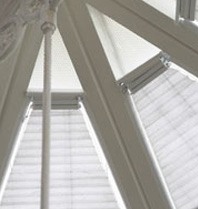 Elegant Conservatory Window Blinds
Add a touch of sophistication to your conservatory with our conservatory window blinds. At Allegro Blinds, we understand the importance of creating a beautiful and comfortable space for relaxation. Our selection of window blinds is designed to enhance the aesthetics of your conservatory while providing practical solutions.
Conservatory Shutters
Enhance your home with our conservatory shutters, offering an array of materials, finishes, and styles to choose from. Elevate your interior decor with a touch of style and class. From classic to contemporary designs, find the perfect shutters that suit your taste and create inviting havens of style and comfort in your living spaces.
Perfect Fit INTU Blinds
Perfect Fit INTU Blinds present a sophisticated window, door, and conservatory solution. Free from drilling or screwing, they maintain a clean look. Experience the convenience and child safety advantages similar to other blinds, but without any gaps, even on challenging windows. Operating and maintaining them is effortless, bringing a modern flair to your home while fitting seamlessly onto your windows.
Stylish Conservatory Roof Blinds
Conservatory roof blinds elevate the aesthetics and comfort of your space, while offering practical control over light in awkward places.
Our roof blinds are crafted with precision, providing a perfect fit and smooth operation. With a range of colours and designs, you can effortlessly enhance the ambiance of your conservatory while enjoying privacy and temperature regulation.
Remote Control Blinds
Say goodbye to reaching for your conservatory roof blinds. Remote control blinds offer adjustment of light, temperature, and privacy at the press of a button – experiencing the perfect blend of comfort and convenience for your conservatory.
Skylight Blinds
Skylight blinds offer practicality and style, ensuring precise light control and privacy. With a variety of fabrics and designs to choose from, you can effortlessly enhance your living spaces while protecting against harsh sunlight. Skylight Blinds are easy to operate and maintain, providing an elegant and functional addition to your home. 
How to Order Fitted Conservatory Blinds
To order our fitted conservatory blinds, find out more, or to schedule a complimentary home visit and quotation, reach out to your nearest branch or send an enquiry. Our expert staff in St Albans, Watford, and Harrow will gladly assist you. 
To get a firsthand view of our stunning shutter and blind options for conservatories, visit one of our convenient local showrooms.
Need some friendly advice? Then give us a call...