Blinds for Schools
The needs of a school are very specific and here at Allegro Blinds we offer a huge range of school blinds, which are suitable for a variety of purposes.
The Benefits of Blinds for Schools
Durable and child-safe
Create shade for computer screens
Create privacy for teachers' offices
Prevent distraction that glare or reflected light can cause
Antibacterial or fire retardant coating available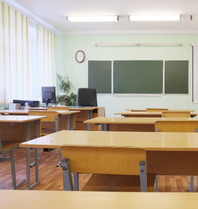 If you need a durable material to withstand constant wear and tear or an easy-clean design for the messier areas of your building, we have a blind that suits your needs. Even if you have a modern, new-build school, our bespoke blinds can be made for large windows and skylights.
We understand the difficult practicalities when making school improvements, that's why our experts offer total flexibility by installing blinds during holidays or half terms.
What are the best blinds for schools?
Blackout blinds for schools: Ideal for rooms where you will need complete darkness, especially for assemblies where videos are often shown.
Roller blinds for schools: Simple to use for both teachers and children. They provide shade during peak times of the day.
Vertical blinds for schools: Offering perfect privacy, shade and elegance making them ideal for teacher's lounges and offices.
Read our full blog to learn more.
You can visit us at one of our showrooms local to St Albans, Dunstable, Watford and Harrow for you to pop into to see our full range of blinds, which features designs, fabrics and patterns to match any décor.
To find out more about our range of school blinds or to arrange a free school visit and quotation across St Albans, Watford and Harrow, please contact your local branch or send us an enquiry.
Need some friendly advice? Then give us a call...