Blinds For Bifold Doors
When it comes to finding the perfect blinds for bifold doors, Allegro Blinds has an impressive selection of designs and styles to suit all preferences. Whether you're a homeowner or a commercial customer, our bifold door blinds are both stylish and practical, ensuring optimal privacy for each panel of your bifolding door.
At Allegro Blinds, we understand the complexity involved in selecting the right blinds for bifold doors. That's why we specialise in perfect fit blinds that effortlessly attach to the door frames. By opting for our perfect fit blinds, you can be rest assured that their versatility and simplicity will complement your bifold doors.
You will find a wide range of styles and designs to suit various room decors and personal preferences. Whether you prefer a sleek and modern look or a more traditional and cosy feel, you'll find the perfect blinds to compliment your space. From classic neutral tones to vibrant patterns, the options are limitless.
As a leading supplier of perfect fit blinds for integrated bifold doors, Allegro Blinds takes pride in delivering a high-quality service. Our team will guide you through the entire process, ensuring a hassle-free experience. We understand the importance of simplicity and strive to make the entire journey as easy as possible for you.
The Benefits of Blinds For Bifold Doors
They fit perfectly to your Bifold doors
No need to drill holes
Wide range of styles to suit your room
Affordably priced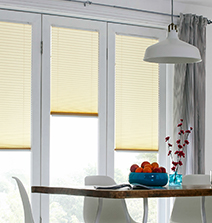 One of the standout advantages of our blinds for bifold doors is affordability. While maintaining high-quality standards, these blinds are priced competitively, ensuring that you can enhance your space without breaking the bank. The combination of style, functionality, and affordability makes these blinds a popular choice among homeowners and business owners alike.
Perfect Fit Blinds For Bifold Doors
As the name suggests, perfect fit blinds slot neatly onto a frame with no need for drilling, making them versatile and extremely simple to install. Given the size and complexity of bifold doors, perfect fit blinds are the ideal companion.
Here at Allegro Blinds, we are leading suppliers of perfect fit blinds for integrated bifold doors, so you can trust that our team will deliver a high-quality service. From home visits and estimation, all the way to fitting, we aim to make your experience as simple as possible.
If you're interested in exploring our versatile range of bifold blinds, or wish to arrange a free home visit and quotation, our team is ready to assist. Contact your local Allegro Blinds branch or send us an enquiry, and our knowledgeable staff in St Albans, Watford, and Harrow will be more than happy to help.
Need some friendly advice? Then give us a call...