Made to Measure Blackout Roller Blinds
When you want almost perfect darkness, either for a good night's rest or to enjoy an evening in with family in front of the television, made to measure blackout roller blinds are guaranteed to suit your needs. Available in a wide range of bold or soft colours, there is a design to match everyone's interior taste. So, whether you just want to protect your furniture from sun bleaching, or provide a lazy lie-in throughout the summer, blackout roller blinds give the best result.
The Benefits of Made to Measure Blackout Roller Blinds
Easy installation
Protection from draughts and cold weather
Completely keep out light when needed
Many styles, patterns and colours available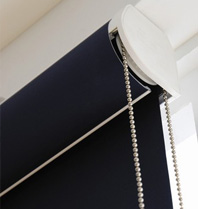 Are Blackout Blinds Effective?
The effectiveness of blackout roller blinds varies based on how you hang them. When made to measure and installed properly, they can indeed eliminate external light, even intense sunlight. However, it's crucial to note that they aren't a 100% complete barrier against UV rays. The misconception that they'll automatically block every bit of external light is a common misunderstanding about blackout roller blinds.
Although, this isn't to say that blackout blinds aren't effective – whether you're looking to create the perfect sleep environment, enhance privacy, or improve your home theatre experience, made to measure blackout roller blinds are the ideal solution for your home for optimal light control. 
Our premium selection of blackout roller blinds not only effectively eliminates light but also adds a touch of modern style to your interior space. 
The "Perfect Fit" Blackout Roller Blinds
Designed to seamlessly integrate into your windows; perfect fit blackout roller blinds offer a flawless fit that eliminates gaps and ensures optimal light blockage. The innovative "perfect fit blinds" design allows the blinds to be effortlessly installed onto your windows without the need for drilling or screws, preserving your window frames and maintaining a clean, uncluttered look.
Not only do they provide exceptional light control but also enhance energy efficiency by reducing heat transfer and minimising drafts. The blackout feature guarantees undisturbed sleep, making them an ideal choice for bedrooms, nurseries, or any space where you desire darkness. With a wide range of colours and designs available, you can effortlessly match the blinds to your interior decor.
Upgrade your interior with the sophistication of our perfect fit blackout roller blinds – a harmonious blend of form and function that elevates your home with unmatched style and comfort.
Contact Us
To find out more about our range of made to measure blackout roller blinds, or to arrange a free home visit and quotation across St Albans, Watford and Harrow, please contact your local branch or send us an enquiry. Our friendly team are happy to help with any enquiries you may have and advise you on the blinds best suited to you and your home.
Need some friendly advice? Then give us a call...