Office Window Blinds
When working in an office day in and day out, it's important that your surroundings are as comfortable as possible, and quality office window blinds can make a real difference for you and your staff. Our great range of options provide shade and privacy solutions which balance chic décor with practicality.
The Benefits of Office Window Blinds
Create shade for computer screens
Prevent eye strain, headaches and dry eyes by reducing screen glare
Privacy for meetings
Shut out distractions when you need to concentrate
Improve security by preventing potential burglars and intruders from seeing inside your office
Blackout a room for presentations
Antibacterial or fire retardant coating available for added safety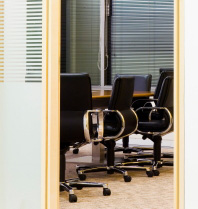 With such a wide range of office window blinds to choose from, it can be difficult to decide on the perfect match for your workspace. That's why we have written a clear guide on the best blinds for offices to assist with your enquiry.
You don't want dull, worn-down blinds that don't represent your business. Our blinds are resistant, easy to clean and manufactured using the best materials; therefore will ensure that your office continues to look professional. 
Whether you need office window blinds that are  durable and low maintenance, or something to match your current colour scheme, we have a variety of options to choose from. We supply high-quality, professional products with a 2 year guarantee. 
Whichever office blind you choose, we can have it made to measure to ensure the perfect fit for your office.  You can find a range of blinds at our showrooms in St Albans, Watford and Harrow. Below we have listed some of the most popular choices used in offices: 
Their made-to-measure fit means that you can create a fresh and uniform-looking office. They're also easy to use and allow you to precisely adjust the light that comes into the room.
They stop the sun's rays from penetrating through, therefore you will have clear visibility when presenting on a screen.
Venetian Blinds are amongst the most popular office blinds due to their versatility. You can easily adjust the light as the sun changes position throughout the day.
To find out more about our extensive range of office window blinds or to arrange a free home visit and quotation across St Albans, Watford and Harrow, please contact your local branch or send us an enquiry.
Need some friendly advice? Then give us a call...