How to Clean Fabric Vertical Blinds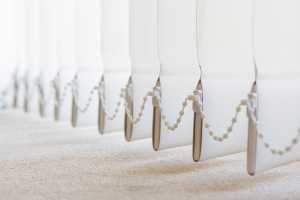 We've all looked at our blinds and thought 'they need a good wash', but you might feel put-off about cleaning them because you don't know where to start. With all the conflicting information floating around, you might be wondering what the best method really is, to ensure optimal results.
Will washing by hand be too time consuming and difficult or will a washing machine ruin the shape of the blinds? This month our experts are here to advise you on the best ways to clean fabric vertical blinds.
How to clean vertical blinds at home
Before detaching your vertical blinds, dust them down first. This'll help you to focus on the dirt and stains, when you come to use water and a cloth. You may even want to use a vacuum to remove stubborn dust.
Use luke-warm water when you clean vertical blinds. If the water is too hot, it's possible that you'll melt the adhesive used to keep the weights inside the bottom seam of the blind. It's important to avoid melting this glue because these weights keep your blinds in shape and in place.
Clean your blinds in the bath or a large basin to ensure you give each and every panel a good wash, all over.
Use a soft cloth to wipe the marks off each vertical panel. Do this in the same motion and avoid scrubbing because this can cause threads and scuffs. Wipe any stains and dirt down gently and apply a tiny amount of mild detergent to aid removal.
Once you have cleaned all panels, give them a rinse with luke-warm water and dab any excess water off with a towel.
Hang up to dry or place the panels on a towel and leave them to dry naturally before attaching them back to their rail.
Can you put vertical blinds in the washing machine?
Cleaning vertical blinds by hand can be a bit of a hassle sometimes and isn't the easiest thing to do. Luckily though, this isn't the only method you have to follow when it comes to washing vertical blinds. Here's how to wash vertical blinds in the washing machine:
Before placing your blinds into the washing machine, check to see if they are machine washable and dust them, whilst they're still hanging up.
If they are OK to be washed in the machine, roll them up and pop them into a zip up machine washable bag or pillowcase to stop the material from snagging.
Put them on a delicate setting/slow spin and use a mild, blinds-friendly detergent to avoid removing any protective coatings that might have been applied to your blinds.
Once the spin is complete, hang them up to dry on an airer or place them on a towel. Do not put them in a tumble drier – the heat can melt and distort your blinds.
How to clean vertical blinds mould?
Mould not only looks ugly but it can be damaging to our health. When you spot mould on your blinds, you should remove it and try to prevent it from growing back with mild mould spray or with some simple items that can be found around the home.
Household items including white vinegar, lemon juice and tea tree oil mixed with water are a few of the best ways to clean vertical blinds with unsightly mould on them. The mould can be removed by spraying these liquids onto the targeted area on your vertical fabric blind, leaving them to soak, wiping and rinsing off.
For quality blinds, expert fitting and friendly advice, come to Allegro Blinds today. We work throughout Harrow, Watford, St Albans, Welwyn and Dunstable/London, so if you're within these locations, please contact us today and see what we can do for you.