Interior Design Trends for 2021
With many of us spending more and more time at home, interior design is more important than ever. Unsurprisingly, many homeowners are making improvements and changes to their home environment, with comfort and practicality at the heart of the decision-making process.
And with the New Year, new design trends are emerging, many of which mirror the challenges of 2020 and the many days spent at home.
Ready to take a look at what the New Year has to bring? Let's explore the interior design trends for 2021.
Ultimate Gray and Illuminating
This year, PANTONE 17-5104 Ultimate Gray and PANTONE 13-0647 Illuminating were chosen as the Pantone Colour of the Year 2021.
View this post on Instagram
Described by the institute as "a marriage of color conveying a message of strength and hopefulness that is both enduring and uplifting", this is just the second time in 22 years that Pantone has selected two colours as their shades of the year.
There are a number of ways this colour combination can be incorporated into your home, including:
Independently – these striking colours work equally as well on their own.
Layering – use Ultimate Gray as the base colour and layer with splashes of Illuminating yellow accessories, such as cushions, rugs and curtains.
Dark blue tones
Another popular colour for your home space, many homeowners will be tapping into this trend this year. Whether that's selecting a dark blue kitchen, a luxurious deep blue armchair for the living room, or a splash of blue paint on the wall of the office, making for the perfect backdrop for Zoom meetings.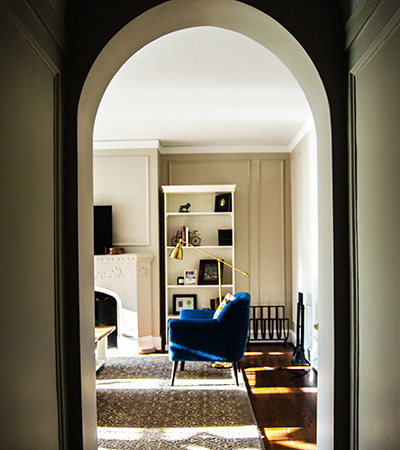 Multipurpose spaces
Your dining table is no longer just for dining…
As we saw in 2020, there's no longer room for single-use spaces. Living and workspaces are coming together as our homes are doubling up as offices, gyms and classrooms.
With this in mind, functional, multipurpose solutions will be favoured and seamless storage will be increasingly attractive to homeowners throughout this year. In contrast, there may be a decline in the popularity of open plan living spaces, which aren't a practical solution when it comes to remote working.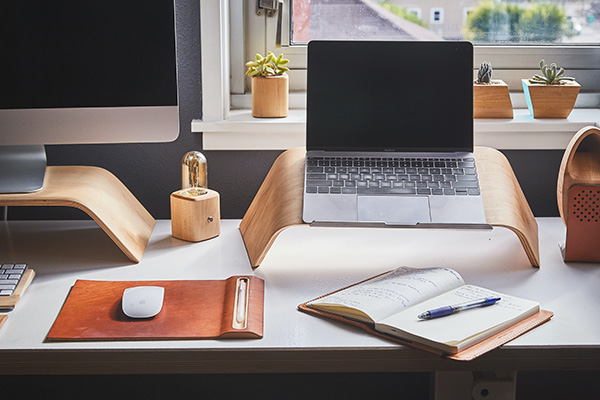 House plants
Bringing the outside, inside.
Indoor plants and trees are a firm favourite and are going to continue their popularity throughout 2021; they bring the calm of nature indoors, freshen the air and add colour and beauty to our homes.
Dried flower and pampas grass arrangements are also making a comeback this year.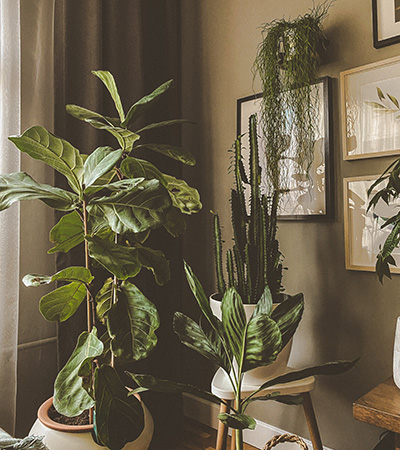 Natural materials
Sticking to the theme of nature, natural materials will be another décor trend in 2021, creating a relaxing oasis in your home.
Wicker, rattan and cane furniture will be particularly popular. Dining room or office chairs, bed frames, baskets and sideboards are all simple ways to bring this trend into your home this year, adding a stylish texture to any room.
Bamboo and wooden blinds also create a warm atmosphere and add a lightness to home décor.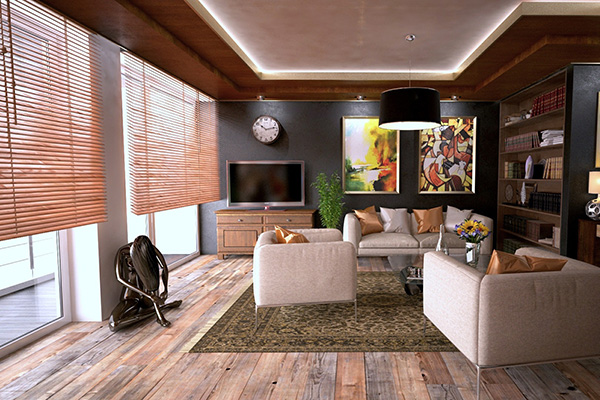 Skylights
As many of us continue to spend more time at home during 2021, homeowners are likely to look for new methods of brightening up indoor spaces. Let the light spill into the room by incorporating skylights, glass doors and lantern windows. These are all great ways of maximising the natural light in a room.
Not to mention, lighter, sheer curtains and allusion blinds are another simple solution to allow natural light into a room and create a more spacious feel.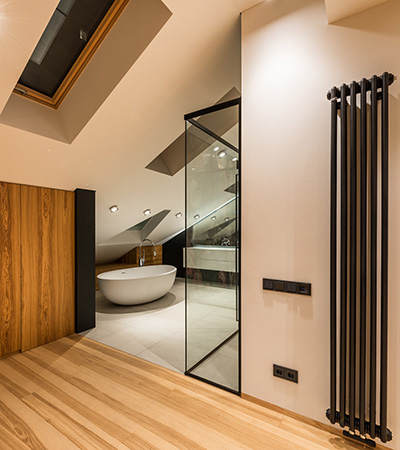 Looking for a helping hand when it comes to updating your blinds to mirror this year's interior design trends? The team at Allegro Blinds are here to help. We offer a variety of blinds in a range of designs, colours, patterns, shapes and sizes to tap into 2021's interior design trends and give your home a refresh. Get in touch today to find out more.