Types of Blinds Ideal for Motorisation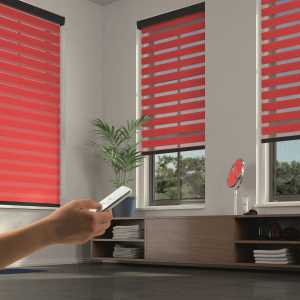 This month with Allegro Blinds we will be discussing the types of blinds ideal for motorisation, to ensure you only ever experience the best when purchasing technologically advanced blinds. With the combination of motorised techniques and stunning fabrics, it's a matter of personal preference when deciding between Somfy, Louvolite or Luxaflex blinds. Choosing how to shade your home can be hard work because we all want something that'll last and look great in years to come. Choose design and convenience, when you choose blinds that can be scheduled, altered with a remote or powered by smart home automation.
Blinds with motorisation
Somfy
Don't let motorised blinds choose a design for you, with Somfy you can decide for yourself. Somfy motorised mechanisms can be installed into all types of blinds including: Roller, Venetian, Pleated and Roman blinds. These blinds are ideal for motorisation because they all have up and down motion and angled if required, with the simple touch of a button.
Electric blinds can be powered by WiFi, battery or via the mains. The power is in your hands when you use an interior blinds hand control, used for Venetian blinds, you can tilt the slats with the wheel on the remote and guide them up or down to block out the light or let it all cascade in. The second option is the wireless wall mount, this controls one or more blind for fluid movement and instant light. Lastly, a centralised remote control can be used to direct up to six groups of blinds with a timer, with a digital screen you can input your requirements and the technology will remember it for you.  
One Touch (Louvolite)
Affordable luxurious blinds for your home, allowing the optimal amount of shade to suit you. Sit back and relax with One Touch motorised blinds, they will do the work either using the wand that can be placed next to them on the wall or with a remote that can be carried conveniently on your person, so you can change them as you walk into the room.
Louvolite's One Touch blinds come in countless beautiful fabrics to ensure you get a style that suits your home exactly. They're also cordless, which is great news for families with young children or mischievous pets that have found themselves caught up in the cables.
Somfy TaHoma®
Use any device such as your tablet, computer or phone to connect with the Tahoma® box. This clever device allows you to control your motorised blinds with whatever device you have to hand. This is conducted through a secure radio transmission that has been rigorously tested to ensure that it's reliable and performs to its utmost.
With a simple box, you won't have to worry about losing any remotes because you can use any device in the house to move your blinds without getting up, so forgot all of the manual work and let TaHoma® do it for you.   
Allegro Blinds are a local family run business working in various areas including: Harrow, Watford, St Albans, Welwyn and Dunstable/Luton. Providing our customers with a quick, professional fit to suit each individual. Supplying only the best motorised products including Somfy, One Touch and Luxaflex – in order to equip you with long lasting high-tech and high quality motorised blinds. If you would like to get in touch to find out more about our range of motorised blinds or are looking to book an installation – please give our professionals a call or send us an email today.