Wooden Blind Cleaning and Care Guide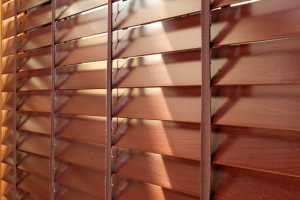 Offering a warm and earthy aesthetic, wooden blinds are a popular choice for homes across the country. But to keep them looking their best for years to come, it's essential that they are cared for properly. Wooden blinds collect more dust than metal or plastic, but regular cleaning every three to four weeks should be enough to maintain their quality. You may now be asking; how do I clean my wooden blinds? That's why we've put together this wooden blind cleaning and care guide to help you understand what are the best cleaning techniques, in addition to warning you of the pitfalls to avoid.
Dusting your blinds

To give you easier access for cleaning, close the blinds so they lie flat against the window. Once one side is complete, rotate the blinds to clean the other side. Be careful you don't unhook the blinds, or pull on them as you clean.

The best equipment for dusting wooden slats is a feather duster or a soft microfibre cloth, which are able to dislodge small specks of dust that other types of cloth might miss. You may also wish to use a clean sock or a cloth glove and run your fingers between the slats. Alternatively, a soft vacuum attachment can also be effective. Whatever you use, avoid any rough materials as they might scratch the wood.

Move left to right along the slats, giving each slat its own, individual attention. If the blind is especially dusty, you may wish to put a towel on the floor to catch falling dust.
Washing your blinds
Occasionally, you may wish to give your blinds a deeper clean by washing them. However, it's important to note that wooden blinds are often made from an absorbent type of wood and can therefore warp or discolour if it becomes too wet.

Put a few inches of water in a bucket, but don't add any chemicals to the water, as this could result in damage to the aesthetic of the blind by staining or streaking the wood.

Use a gentle cotton cloth or a sock, and dip it into the water. To protect the blinds, it's important that the cloth or sock is not saturated with water. Therefore, be sure to wring out the material until it is just slightly damp.

Like the dusting technique, adjust the blinds so they lie flat against the window for an easier clean. Wipe from left to right, one slat at a time. If you are faced with more stubborn stains, rub them more firmly and in a circular motion.

It's essential that your wooden blinds are not left damp for too long, so try to dry each slat immediately with a dry rag to prevent any water spots or discolouration.
Varnishing your blinds
The varnish or finish of your wooden blinds can alter its outward appearance, so periodically treating your blinds to a bit of a makeover can give them their shine back. However, don't attempt to use any type of oil on your blinds if the wood is cracked, as the oil may seep into the crevices and lead to warping.

One procedure to give your blinds a polished look is to mix a cup of olive oil in a bowl of warm water and apply to the wood. Alternatively you can use lemon oil (a natural disinfectant) or natural wood cleaners.
If you're on the hunt for affordable wooden blinds in a wide range of styles and colour options, then Allegro Blinds will able to help you. We provide and install quality blinds and shutters that are made to measure to ensure a perfect fit for your window. Call our expert team today for your free home survey.