Remote Controlled & Motorised Blinds: The Rise in Popularity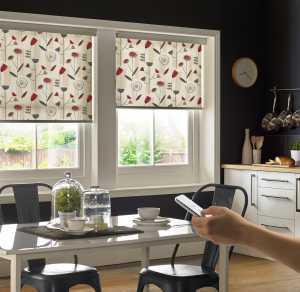 As the world becomes more technologically advanced, these advancements are also becoming incorporated into our homes. Motorisation offers a level of convenience and modernisation that is boosting the popularity of remote controlled designs. This technology is now available for a variety of household features, including blinds. The degree of enhanced comfort and improved user control mean that light and temperature levels can be easily regulated at the touch of a button, which is a useful advantage for homeowners and businesses alike.
Benefits of remote controlled blinds
Take a look below at the top benefits that have attracted homeowners and businesses to electric blinds.
Convenience
Perhaps the biggest selling point of electric blinds is the high level of convenience they offer. Systems allow all of the blinds in your home to be operated from one, easy-to-use remote control. This is especially useful in large houses with many windows. To grant you complete command, electric blinds can also be scheduled to open and close at specific times of the day or night, seamlessly in tune with the rising and setting of the sun.
Easy control of environment
Most heat energy escapes via the windows. To help prevent your energy bills from soaring, blinds offer excellent light and temperature control to properties. Motorising them only amplifies this ability, allowing you to set times for your blinds to open and close according to the seasons. This helps to keep homes cool in summer and warm in winter, with the remote control feature allowing quick adjustments whenever they are needed.
Enhanced security
Leaving your home empty while you jet off abroad can summon up feelings of anxiety for some families. Ward off your worry by setting the timer on your electric blinds to open during the day and close during the night, simulating the appearance of your house still being occupied. This simple trick could discourage would-be thieves from attempting a break in whilst you're away.
Privacy protection
If you're seeking total privacy when showering or getting dressed, simply lower your electric blinds to obscure the glass. One click of a button, and you are left to get ready in the mornings in complete comfort and away from prying eyes.
Modernise your home
When it comes time to sell your property, any efforts you have made to modernise your home will reap rewards in the future, and motorised blinds are one way to help achieve this modernisation.
Gentle wake-up call
Instead of being woken up by a shrill alarm clock, give yourself a more relaxed start to the day by being gently stirred by the rising sun. Time your electric blinds to open in the mornings and let the natural sunlight rouse you from your slumbers
Child Safety
Motorisation eliminates the need for the cords and chains needed for non-electric blinds, making them a much safer and child-friendly option for families with young children.
Where might you find remote controlled blinds?
It's clear that remote controlled blinds offer a multitude of advantages that make them ideal for any interior. The most useful applications can include home movie theatres, high privacy areas of the home such as bathrooms and bedrooms, office meeting rooms, and conference rooms.
The team at Allegro Blinds are excited to announce that we now offer a fantastic range of electric and motorised blinds, all of which can be operated conveniently via a remote control. Our motorised blinds come in a variety of styles, including Roman and Venetian, all of which are supplied and installed by our expert team. So if you're searching for top quality blinds in the St. Albans, Watford and Luton areas, then give our friendly team a call today.